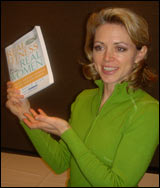 Rochelle Rice, MA
, is the President of
In Fitness & In Health
, the creator of the
Plus-Size Exercise Technique
, the movement director for the
Hungerwise™
videos and the executive producer and creator of the Full, Fit & Fabulous event.
In researching fitness programs for women of size, it became evident that there was a lack of program design and availability of certified trainers specializing in larger women. With her history of bulimia, Rochelle's interest in Plus-Size Exercise came through her concerns about the inordinate stress put on thinness in our society, rather than fitness. Providing a safe environment where women could exercise physically while feeling secure emotionally, became Rochelle's passion. Designing a fitness technique where women of size could achieve a level fitness was the base of her graduate work.
Rochelle Rice began studying with Christine Schenk in 2001. She graduated from the Masters Program in May 2010 and is currently enrolled in the Energy-Body Medication Program. Rochelle has now taken the knowledge gained through these studies of the CHRIS ® Technique and blended it with her weight management work with the plus size population. Ms. Schenk continues to provide supervision on a regular basis for Rochelle's integration of energy work with her clients.
We encourage you to visit Rochelle's website for more information.